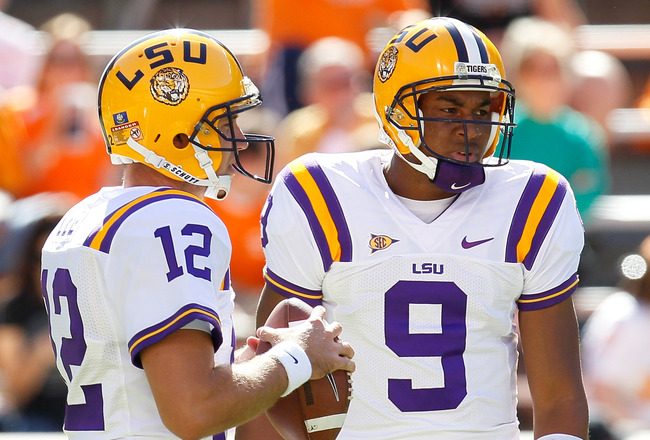 Lee & Jefferson have worked the two-QB system to perfection.
Photo via Bleacher Report
LSU not only needs "swag" to beat Alabama, they need "Jefferswag."
Starting quarterback

Jarrett Lee

has been phenomenal. Thirteen touchdown passes and only one interception is quite a feat for a quarterback who used to have problems with throwing the football to the wrong team.
Lee has been the field general for this offense and continues to impress with his ability to throw the football on time. Since Jefferson's return to the team, he has been a force running the ball and has passed rather efficiently.
But this Alabama defense is a different animal. They do everything right. They don't miss tackles. When they do hit you, they make it count with bone crushing blows.
That's why LSU needs Jefferson.
Lee is a sitting duck. He has had all day to throw the football this year because of a deep offensive line and punishing running game. This won't happen in Tuscaloosa, one of the loudest sporting venues I've ever attended.
Alabama's three losses last year happened against teams with quarterbacks who can run.

Stephen Garcia

, Jefferson and

Cam Newton

all kept the Tide defense on their heels for the entire game. With they way Jefferson has looked running the ball, he could possibly have the same effect in this game.
From what I've seen in watching past Alabama games this season, their inside linebackers and safeties time their blitzes to perfection. It's timed so perfectly it is almost impossible to block and the quarterback pays a price if they step into a throw inside the pocket.
Ask Arkansas quarterback

Tyler Wilson

.
In the last few games, Lee seems to not step through his throws. He tends to bail out after the ball leaves his hands. I'm not a former quarterback, but it's weird he does that because he hasn't been smoked all season.
Jefferson threw dart to

Rueben Randle

for a touchdown despite getting smoked by a blitzer versus Auburn. Like Lee, he doesn't mind getting hit. But if a play breaks down, Jefferson can make a play with his legs to avoid

Dont'a Hightower

and the Crimson Tide blitzers.
The stats are stunning for this Alabama defense. They have given up 30 points this year in the first quarter, but only 25 combined points in the other three quarters. Opponents have only reached the Red Zone nine times this year. Most NFL Draft pundits have four Alabama starters going in the first round of next year's draft.
LSU's offensive line has been great. They will be as healthy as they were against Oregon. But things will break down versus Alabama. That's why LSU needs a quarterback with legs.
Everybody get your "Jefferswag" on, this should be a wild one.