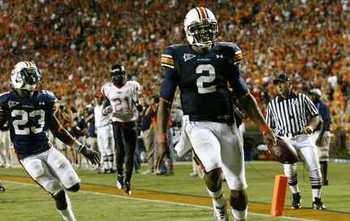 Is Newton the best player in college football?
Photo via BleacherReport
LSU has faced their fare share of mobile quarterbacks this season and have superb in defending them. But when the Tigers face the Tigers, they will be facing a whole new animal.
Cameron Newton
is "not your average" quarterback. Many thought another
Tim Tebow
wouldn't come for at least a decade, but college football fans are seeing that Newton is special.
LSU's "not your average" cornerback
Patrick Peterson
knows is too
.
"6-6. He's running about... I'm going to say a 4.4 (forty-yard dash), strong arm. What else can you say?"
Kelvin Sheppard
will have his work cut for him at linebacker, as he will be barking out orders for the defense. He knows it is important to not only prepare for Newton, but all of Auburn's weapons.
Here's how LSU performed this year versus mobile quarterbacks (sacks count against rushing statistics)...
Larry Smith
-- Vanderbilt (LSU 27 - 3)
Passing
: 8-15 for 70 yards, 0 INT
Rushing
: 10 rushes for -23 yards, Long rush of 15 yards
Sacked
6 times ; 2 Quarterback Hurries
Chris Relf
-- Mississippi State (LSU 29-7) (Note: Relf split time with
Tyler Russell
)
Passing
: 5-8 for 35 yards, 2 INT
Rushing
: 7 rushes for 46 yards, Long rush of 13 yards
Geno Smith
-- West Virginia (LSU 20-14)
Passing
: 14-29 for 119 yards, 2 Touchdowns & 1 INT
Rushing
: 5 rushes for 13 yards, Long Rush of 11 yards
It is clear Smith was the best talent of the three and did a great job of playing in Death Valley. But overall, he didn't really get out of the pocket to make big plays. His biggest gain, rush or pass, was 19 yards.
LSU's defense has been dominant. There are plenty of Bayou Bengals who will eventually play on Sundays for the defense. The problem is the unit can sometimes be over agressive, which is never great against a veer offense.
Edwards (left) has been a leader for the LSU defensive line.
Photo via indiatimes
Look for
Lavar Edwards
to play a key role in the Tigers game tomorrow, as he plays the most fundamental technique for the Tigers this season at end.
Edwards has been the most productive end for LSU since the season-ending injury to
Sam Montgomery
.
Chancey Aghayere
,
Kendrick
Adams
and
Kiki Mingo
will also play significant time tomorrow at defensive end.
But the most mouth-watering matchup between the wits of Auburn offensive mastermind
Gus Malzahn
and LSU's "Chief"
John Chavis
will be if Newton can crack
the "Mustang" formation
.
Expect to see plenty of Mustang versus Auburn from Chavis. The formation puts more speed on the field, which will help the contain responsibilities for the LSU defensive ends.
Another aspect of the Mustang is it lines
Drake Nevis
directly over the center in a "0-technique." This forces the center to guess before the snap which A-gap Nevis is going to shoot. If the center then fires off conservatively, Nevis can just bull rush him three yards into the backfield.
The other problem LSU faces is Newton's ability to break tackles when he takes off and runs. No. 2 has the veer offense running smoothly right now.
But tackling in the open field has been one thing the Bayou Bengals have done well this season.
"We pride ourselves in tackling in the open field," said safety
Brandon Taylor
. "I love to come up field and make tackles."
Auburn has other weapons in their offensive arsenal.
Mario Fannin
and
Michael Dyer
are both big playmakers at running back and
Darvin Adams
has been an above average receiver. But if LSU wants to beat Auburn, they have to, at the very least, contain Newton.
Prediction
Often when a matchup between to great units such as the LSU defense and Auburn offense, it is usually the opposite units that decide the game. I believe the Bayou Bengals have a considerable advantage through the air against an atrocious Auburn secondary.
I can see the LSU defense having much success versus Newton. The national media who haven't watched the Tigers defense in person doesn't know how great they are in the open field. Newton isn't going to punish Taylor or Hatcher like he did the poor kid from Arkansas.
I see Auburn winning this game at home, even though I am breaking one huge rule in picking games like these. Always pick the team with the elite defense when an elite defense faces an elite quarterback.
But mark my words, don't be surprised if a really bad officiating mistake decides the outcome of this one.
Auburn 23 - LSU 16