If I had to sum up LSU's offense in one statement, it might just go something like this:
"Damn,
Les Miles
is pretty self-conscious."
Seriously, only "The Mad Hatter" would be stubborn enough to keep playing a quarterback who is completing only 53% of his passes, has a TD-INT ratio of 2:7 and averaging 5 yards an attempt.
And, best of all, this so called "mobile" quarterback is bruising out a whopping 3.3 yds per carry.
The only conclusions I can think of that is keeping Miles from pulling
Jordan Jefferson
are either he doesn't want to hurt the kid's feelings or he doesn't want to admit he was wrong for letting JJ keep the keys to the offense for so long, which is garbage when you have a team with National Championship talent.
Now that my Jefferson bash is out of the way, lets take a look at the rest of the offense.
Offensive Line
... because everything starts here.
This unit has performed particularly well this season. Losing
Will Blackwell
in UNC game could have brought the whole unit down a bit, but it has not and the Tigers have only allowed 11 sacks in 7 games.
The only real experience the unit had entering the season was
Joseph Barksdale
, who is my second least favorite starter (
Any guess who's first?
). The highly touted left tackle obviously has the talent to play at any level, but his mental errors are pulling away from that and the Tigers are fortunate that it has not spread to the rest of the unit.
What has really impressed me over the past few weeks is how the line has been able to adjust to rotating quarterbacks. Being able to limit false start penalties with having two different cadences is a very underrated aspect of the line performance, not to mention the different styles each quarterback brings (or atleast tries to bring).
Bottom Line:
Over 1300 rushing yards, 11 sacks in 7 games, few penalties. The line has yet to face their most challenging test of the year, but those stats are pretty solid even if they haven't faced elite talent.
Grade
: B+
MVP of the offense has been Ridley
Photo via wltx.com
Running Backs
... because we're blessed to have them
Let me start this one with a story:
The summer before I started freshman year at LSU, I worked at a moving company. A large part of what I did was move people into/out of their new/old houses. When I came across a heavy box, instead of picking it up with my arms (which would have worn me out after about 2 hours), I had this thing called a hump-strap.
This hump-strap allowed me to rest the box on my back, while I placed the strap below the box and wrapped it around my shoulders- similar to carrying a back pack. This kept me fresh to work the entire day without overly exerting myself.
Here is what I am getting at. Me=LSU offense; Heavy Boxes=Opposing defenses; Hump-strap=LSU Running backs
The LSU Running backs, namely
Stevan Ridley
(140 rushes for 686 yards and 6 TDs), have carried the Tigers offense all year. Without them, the Tigers would not be where they are right now.
Of the nine LSU players to register a carry this season, six are running backs if, in this case, you include
Russell Shepard
. They have rushed 214 times for 1125 yds, good for a 5.3 average and have also contributed to the passing game with 17 catches for 124 yards.
The only negative I see is that LSU has too many hump-straps.
LSU may be trying to use too many running backs. I'm not saying that all six ball carriers should be forgotten. It's just you don't need to use six backs to keep your starter fresh. Three or four should be enough. And it will be easier to establish a rhythm for the guys you are going to use.
Bottom Line
: Production is production, so the Tigers have that going for them. The excessive use of six ball carriers can detract from the effectiveness of the group. You don't need Shepard,
Michael Ford
,
Alfred Blue
,
Spencer Ware
, and
Richard Murphy
to keep Ridley fresh, especially if you're so intent on running the ball with your QB. Ford needs his hands on the rock more often too...
Grade: A
Shepard is still learning how to play receiver
Photo via Nola.com
Wide Receivers/Tight End
s
... because LSU has them.
Before
Terrence Toliver
decided to start showing up for games, this was the most underachieving unit on offense (I never expected much out of Jordan Jefferson). A unit that includes Toliver, Shepard and
Reuben Randl
e
should be producing more, even if there is not much on the depth chart behind them.
The tight ends have played similarly, but have contributed in the running game with their blocking.
Mitch Joseph
played well in the place of
Deangelo Peterson
during his injury. Peterson, who has big play receiving ability, seems to be facing the same problems with the quarterback play as the receivers.
Outside of the Toliver sighting in Gainesville and few Randle flashes of brilliance, this unit has not done anything notable. I know the play behind center has been sub-par most of the season, but the receivers can help their signal caller out by running better routes, creating seperation, catching the ball, and making plays .
Shepard needs to progress throughout the season with both his route running and his hands. Unlike Toliver and Randle, Shepard is a smaller receiver. That means No. 10 needs to run even crisper routes to get more separation. He showed some promise with his red zone touchdown on a slant against UNC, but has shown little else as a wide receiver.
Bottom Line:
I've always said that LSU has the talent to throw the ball when they WANT to, not just when they NEED to. Toliver's performance in Gainesville can possibly turn the light on for the unit, as well as more game reps for Lee. Tiger fans can find solace in how effective the running game has been this season. But when a unit is lead by by three 5-star athletes, standards must be set high.
Grade: C+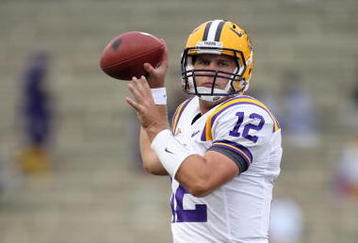 Lee is known by his teammates as "The Comeback Kid."
Photo via BleacherReport
Quarterbacks
... because I have to.
I have already touched on Jefferson. So now I will focus on how the competent quarterback on the Tigers plays.
Jarrett Lee
has exceeded everyone's expectations with how he has played since seeing game action. The stats speak for themselves- 72% completion, 2:1 TD-INT ratio, 8 yards an attempt, 149.2 QB efficiency.
He has displayed traits Jefferson has seldomly shown in his time leading the offense (pocket presence, decisiveness) while winning back a fan base that had abandoned him two seasons ago.
Bottom Line
: One of the QB's main responsibilities is to lead the team to victory, so a 7-0 record does say something. But Tiger fans have been able to witness two different extremes in quarterback play, so they have let Miles know
who they want at quarterback
.
Grade: Jefferson = C+, Lee = A-
Coaching
... because nobody's off limits
The coaching seems to be holding the unit back to some extent. The offense has the fingerprints of the spread element that
Gary Crowton
brings and the power running element Miles wants. Passing game coordinator
Billy Gonzalez
has yet to have an influence of what I've seen from the games from last year to this year and the offense has looked incompetent at points this season.
I touched on this at the beginning, but Miles needs to abandon the Two Quarterback system.
It is getting to the point to where Jefferson is bringing less and less to the table option-wise and Lee has led late drives in two SEC contests to keep the Tigers undefeated. With all the running backs that are seeing the field, the concept of the quarterback running the ball is becoming less vital.
If Crowton or Miles really wants to run the option, they can slide Shepard into the shotgun to run it. It will be more transparent to the opposing defense, but who cares? He has the gamebreaking ability to make it work anyway. Jefferson does not run it effectively enough to warrant playing time, especially if the defense knows its coming.
One aspect I applaude the coaches in is not caving into the public cry to give
Patrick Peterson
offensive touches
. He is special with the ball in his hands, but LSU has enough talent on offense that still hasn't been fully utilized to keep from giving PP7 some offensive snaps.
Bottom Line
: Be it Miles or Crowton, the Tigers are clearly trying to do too much on offense. That combined with questionable play calling haves frustrated Tiger fans everywhere. Les is taking the whole "if its not broken, don't fix" thing a little too far, and by the time he'll want to fix it, the Tigers will be out of the title hunt.
Grade: B-
Cumulative Score
The LSU offense have been under a microscope all season long in Baton Rouge. But when they face their fellow SEC unbeaten Auburn Tigers on Saturday, the whole country will be watching every move the Bayou Bengals make.
The Tigers have much to look forward to against the Auburn defense, especially in the air. "Atrocious" would be a kind word when describing the War Eagle secondary. If that's not a big enough sign for "The Mad Hatter" to play Lee for the majority of this game, than I don't know why I put myself through the pain of watching LSU football.
But even past Auburn, win or lose, the offense will need to make changes and pick up the pace for it to have a shot at a BCS bowl berth this season.
Final Offensive Grade: B-