HardKnockTigers would like to welcome contributing writer

Ryan Brumley

. With me being a former defensive tackle, he attacks a subject that draws near to my heart in his first work for HKT. Contact him at RyanBrum6@gmail.com.
Over the past the past few years, Tigers fans have been waiting for the next great defensive tackle after years of domination at the position.
Drake Nevis
has finally exploded into that role this year. After having a stellar junior season, Nevis is now one of LSU's senior leaders on defense.
Through three games this season, Nevis has recorded 18 tackles, 3.5 sacks and even caught an interception, the first LSU defensive tackle to do so since

Chad Lavalais

picked off a pass against Alabama on Nov. 15, 2003.
After being named being named SEC's defensive lineman of the week two weeks in a row, it is without a doubt that Nevis is one of the best defensive linemen in the country. Now one question remains for the Marrero, La. native. Where does he fit in the picture of the greatest defensive tackles since the beginning of the Saban-era?
The Tigers have had an incredible pedigree of great interior lineman on the defensive front. Here is my look at where Nevis fits in elite group of players.



Honorable Mention: Ricky Jean-Francois



Even though his short-lived career was plagued by injuries and NCAA violations, Francois was still the catalyst for the Tigers in the 2007 National Championship game against Ohio State. He earned Defensive MVP of the game after he had six tackles, 1.5 tackles for losses, a half sack and blocked a field goal. Also a freshman All-American in 2006, Francois will always be remembered for his game changing performance against the Buckeyes.



5. Claude Wroten



If Wroten had played all four seasons as a LSU Tiger, he would certainly be higher on this list. This junior college transfer was second team All-SEC in his first year with the program in 2004. The following season, Wroten and

Kyle Williams

were the best defensive tackle tandem in the country. In his short lived career at LSU, Wroten managed to record 12 sacks and 22.5 tackles for loss in only 21 games. He capped off his senior season by being named 1st team all SEC and All American. He went on to be drafted in the third round of the NFL draft.

4. Drake Nevis

Surprisingly enough, Nevis is the "small" one out of these great group of players at 285 lbs. He has played much bigger than that during his tenure as an LSU Tiger. Even before his breakout season this year, Nevis has been a huge part of the defensive line appearing in 32 games for the Tigers in his first three seasons. In his junior season, he led all defensive linemen with 50 tackles despite never starting a game. With his combined longevity and All-American potential this year, Nevis has earned his way onto this list and could move depending on how big of a year he has in 2010.



3. Kyle Williams



Very few players in LSU history had a motor like Williams. A starter on the 2003 national championship team, he seemed to always be in the backfield recording 26 tackles for loss and 12 sacks during his illustrious four-year career. He was part of two of the greatest tackle tandems in LSU history (Williams-Lavalais, Williams-Wroten). I don't know if we will ever see a lineman who could get in the backfield faster than Williams, who was absurdly quick for his 295 lb frame.



2. Chad Lavalais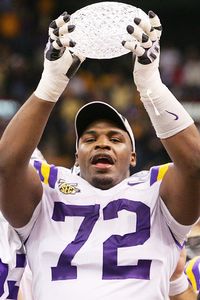 Dorsey's top award.
Photo via ESPN
I was tempted to put him at No. 1, because Lavalais was a player who had as much of a part of bring LSU back to the top of college football as anybody in the past decade. A player who recorded 202 tackles in his career and was the anchor of the 2003 national championship defense. He started in 41 games in his career had over 32 tackles for loss. Try and tell me someone had a quicker first step of the defensive line. I might fight you.



1. Glenn Dorsey



Um… DUH. Dorsey won enough trophies named after a funny sounding old guys than anyone in LSU history. He was the best player on a national championship team on only one leg and half a tailbone. Sounds like one of those World War II stories. But anyway, big No. 72 is just now hitting stride for the unbeaten "S-E-Chiefs" and should have his jersey retired in Tiger Stadium.

As it stands now, Nevis finds himself in an elite group of fantastic defensive tackles from LSU. If he continues to play at a high level,he could easily move up this list.
But don't ask me about how great Nevis could be, just ask "Putt" himself.