Should Miles keeping holding on to Jefferson as the starter?
Photo via SaturdayDownSouth
HardKnockTigers would like to introduce new columnist
Thomas Powers
to the staff. "T-Pain" has been my best friend for a while now, as we've attended countless number of LSU Football games together. He can be reached at thomas.powers10@gmail.com.
Anyone who has watched LSU's quarterback play against both UNC and Vanderbilt seems to have a common opinion:
"Seriously?"
Jordan Jefferson's
play over the first two weeks has been average at best (23-41, 247 yds 2 TDs, 1 INT) and has left a lot to be desired from anyone who has an idea of how football is supposed to be played, which is, you know, scoring touchdowns, gaining yards, etc. "JJ" has left LSU fans doing the unthinkable... wanting
Jarrett Lee
back.
After witnessing a "
Jamarcus-ian"
(Raider, not LSU, version)
8-20, 96 yd performance by JJ and Lee completing the first non-screen pass to hit a receiver in stride of the season, more and more Tiger fans seem to be coming to the side I have been firmly standing on for a while...
Giving Lee another shot. Here's why...
1.
Jefferson's only step hasn't been forward or up, it has been sideways.
Nearly every college football analyst analyst has basically said this about #9. The "young" Jordan Jefferson needing to step up and take the reins of this Tiger offense.
When LSU faced a a depleted North Carolina secondary that was missing three of its starters, Tiger fans could look at Jefferson's numbers and realize that they were pretty much the same as his average performances last year.
Notice how I said "average" instead of "bad."
Against Vanderbilt, Jefferson probably had the most disappointing performance of his career. His accuracy was mediocre at best (he couldn't even put screen passes in his WR's breadbaskets. ) and his "mobility" got him 13 yds on 13 carries.
Now that's not"bad" either. That is "abismal."
If he plays that way against any other team in the SEC, he won't have to worry about a hot seat. This is because metal benches can get pretty cold in Fall, even in Baton Rouge.
Now a pro-Jefferson advocate would say that the defensive line for UNC was just as ravaged by suspensions as the secondary, which, in turn, invited a heavy dose of the run from LSU offensive coordinator
Gary Crowton
. But only two LSU running backs got carries (Stevan Ridley and Richard Murphy) that game and combined for a whopping 80 yards.
With the the Tar Heels linebacking core fully intact, LSU should have taken to the air more than they did against the Heels. Some of that does fall on play calling, but even those with smallest amount of football sense can tell that when Jefferson drops back to pass, he is not nearly as decisive as he should be.
When Jefferson has time, which he has for the most part this season, he tends to hold on to the ball for too long. JJ does not throw it when his reads and progressions tells him to, but only makes throws he knows he can make. This is what throws a quarterback's timing off.
Quarterback reads and timing is like crossing the street. When the last car passes you, you cross. You don't wait to see if there is possibly another car coming to make sure it won't hit you. Instead, you cross when you have enough time to. I hope for his sake, Jordan Jefferson doesn't cross the street like he plays quarterback.
Another development Jefferson hasn't conquered is short-term memory.
Anyone that has ever played and EA Sports NCAA Football videogame knows the cliche soundbyte conversation when you get back on the field after throwing an interception. It ends with
Kirk Herbstreit
humorlously (or would it be humorlessly?) saying something like: "Well, as a quarterback, I was supposed to have a short memory, so I don't really know!"
When Jefferson throws an interception, he takes it as a sign from a higher being that he should not throw the ball for the rest of the game until the 2-minute drill.
2.
Jordan Jefferson's running ability is overrated/overvalued.
The one thing that Jordan Jefferson has improved on is his ability, allbeit overrated, to run the option (oooh... the option). The option is one of those things that everyone expects to work, and when it doesn't, the world might as well end.
The fumble against Vanderbilt when we attempted to run the play was not on Jefferson. Blue should have controlled the pitch.
JJ has gotten better when it comes to correctly run the option, but the problem is he is not fast enough to make it a primary/reliable part of the LSU offense. He is not
Terrelle Pryor
, and this isn't the Big Ten
THANK GOD!
JJ's ability to run the option should not be a deciding factor in him keeping the starting job.
LSU has enough talent in
Stevan Ridley
,
Michael Ford
,
Alfred Blue
,
Richard Murphy
and
Russell Shepard
that Jefferson's running ability shouldn't really have an effect in either his starting job or the LSU offense.
3.
Jordan Jefferson clearly lacks confidence in his game
.
Be it in his arm or his ability to read a defense, JJ clearly lacks confidence in all facets of his game.
Everyone has raved about his physical tools, but somehow it hasn't translated to the field. This may come down to him not wanting to face the same fate (benching) as Lee, which is complete BS. A quarterback should never play with the fear that he will be benched.
This possibly culminated in a game last year where everyone said that Jefferson had a "coming of age." It happened against on the road versus Georgia. Everyone said he showed maturity in wanting to give the
Charles Scott
and the running game one more chance.
Seeing how he has progressed as a pocket passer, I don't think there would be much of a stretch in saying Jefferson didn't want to throw the ball for the risk that he wouldn't complete it. But because Scott got it to the endzone, it is less of an issue.
But Thomas, what makes Jarrett Lee so much better?
First off, I am not saying Lee is the savior of the offense, but he is the better option at quarterback right now. After seeing JJ, its not really saying much.
In the man's first season as a starting quarterback, he became known for his propensity to throw interceptions that ended up as touchdowns for the other team. So naturally, it was all his fault and had nothing to do with the other guys on the field who were on the LSU FOOTBALL TEAM. The other 10 guys obviously had no incentive to tackle the guy ON THE OTHER (not LSU) TEAM, but I digress...
It is easier to teach a trigger-happy QB to make smarter decisions than to teach a gun-shy QB to throw the ball on time.
I remember when Jarrett Lee came in against Auburn and threw his first interception. It was a designed screen play that he was deadset on getting the ball to
Keiland Williams
and it obviously didn't cross his mind to throw the ball away.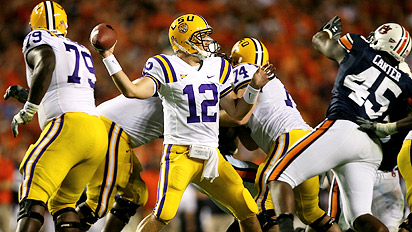 Lee hung tough versus Auburn, leading them to victory in '08
Photo via GameSpot.com
But when #12 took the field next, he showed a high amount of poise and confidence. On one play, he took a 5-step drop, planted his back foot, and threw the ball to where he read the play to go. At that moment, even though the pass fell incomplete, I knew that somewhere in him was the ability to effectively run the LSU offense.
Lee, while taking a vicious hit, hooked up with
Chris Mitchell
on a deep post for a touchdown. Later, on a two minute drill in the fourth quarter, he threw a well placed ball on an out route to
Brandon Lafell
to give the Bayou Bengals lead late for the win.
LEE LEAD A COMEBACK ON THE ROAD VERSUS A SEC TEAM.
Lee was annointed the second coming of
Y.A. Tittle
and Tiger fans everywhere expected back to back BCS titles and/or a second Christmas. Take what you want from the guy, but Lee went back to throw that year with the mindset that he was going to throw it and do so decisively.
HE DID NOT hold the ball hoping someone would eventually get open enough to warrant a throw. For a first-time SEC starting QB, that is a pretty big deal.
Fast forward to Saturday and Lee comes in for some garbage time snaps against perennial doormat, Vanderbilt. His second play in, he play-action fakes and throws a quick seam route to
Rueben Randle
in stride. (Yes! There is such thing from an LSU quarterback!)
JJ struggles to hit receivers in stride on screen passes. You could say that in one play, Lee showed more potential as a passer than Jefferson has in almost two whole games.
Now people may point to the win-loss record (Lee at 5-4, Jefferson at 11-5) to justify sticking with Jefferson. But ask any honest LSU fan why LSU won and they will tell you that the defense during the 2008 season was a dual-coordinated disaster, and has improved immensely under John Chavis in 2009-10. That, and without Patrick Peterson and/or Russell Shepard, LSU could easily be 1-1 or, although less likely, 0-2 this season and people would be calling for Jefferson's head as they did Lee 2 seasons ago.
The one thing that the two have in common in their LSU careers is they have had the same offensive system and the same offensive coordinator. Obviously, playcalling has taken a toll on the development of both quarterbacks, but that is another discussion for another time.
LSU has too much talent at running back (Ridley, Ford, Murphy, Blue), receiver (Tolliver, Randle, Shepard) and tight end, especially when
DeAngelo Peterson
comes back from injury, to struggle on offense. All the Tigers need is a capable trigger man.
If Jefferson can't fill that role,
Les Miles
, Crowton and
Billy Gonzales
need to make the smart decision before does the same thing with the starting quarterback job that he does with the ball in the pocket...
Hold on to it too long.