A pictures is worth $4 million words
Photo via LukeMayeux
Michigan is
already interviewing
Les Miles
. ESPN is reporting that Miles
will take the job
if offered. LSU will evaluate over the different options that could possibly take over, should Miles leave.
Let's take a brief look at a laundry list of candidates that could possibly replace Les at one of the best jobs in the country....
On-Staff Options
To keep it short, there are no major candidates currently on the LSU staff.
The only member on staff with head coaching experience is offensive coordinator
Gary Crowton
, who might be the only coach some fans would rather see go than Miles after the Tennessee game. He served in that capacity with BYU from 2001-2004. I've suspected that Miles has long had a hand in play calling and giving Crowton the reins would let him have complete control over the offense, but hiring him would not exactly rally the fan base.
John Chavis
has only served as an assistant and Defensive Coordinator at the schools he has worked at in his long coaching career. Having a resume that goes back 30+years with the highest position being defensive coordinator says that Chavis has no interest in becoming a head coach. He would've done it by now.
The only wild card that I see on staff is Wide Receiver coach/Passing Game Coordinator
Billy Gonzales
. He has a decent pedigree, serving under
Urban Meyer
since Meyer's time at Bowling Green. Other than that, I cannot give much more argument for Gonzales to get the job, but I have a feeling he will at least get a look from the powers-that-be.
SEC Connected Possibilities
The only thing I can say about these possible candidates is, except for
Lane Kiffin
, every coach that has SEC experience knows where they want to coach and be successful.
Steve Spurrier
and
Nick Saban
are a few of these kind of guys.
Charlie Weis
is even leaving his NFL job to take the same job at Florida.
LSU has an advantage over any other job in the SEC that is hardly ever talked about...
LSU is the only major insitution in an uber-talented recruiting base that also borders another one of those uber-talented recruiting bases (Texas). That makes the possibility of coaching at LSU that much more appealing to any candidate.
A guy who has had success in the conference is
Tommy Tuberville
. There were rumblings that he was stumping for the job when Miles was being courted by Michigan in 2007, so I don't really see any difference now. Yes, he's at Texas Tech, but I'm sure he would jump at the chance to return to the SEC, especially after Auburn bringing in a crystal trophy without him. If LSU fans could get over the whole cigar smoking thing, this could work.
The only active SEC coach that I will mention here is
Mark Richt
. Yes, I know that most LSU fans still secretly miss former Tiger, current Crimson Tide coach Nick Saban, but Richt has the distinction of being on a perennial hot seat in Athens. This opportunity presents a good opportunity for Richt to stick it to the Bulldogs, and he would surely enjoy the talent rich Louisiana for recruiting purposes.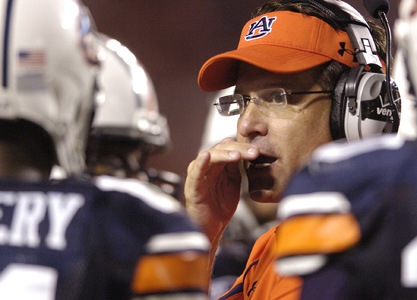 Is Malzahn the real reason behind Auburn's success?
Photo via Matador Sports
A hot candidate is Auburn Offensive Coordinator
Gus Malzahn
. I know he ultimately didn't go for the Vanderbilt opening, but I'm sure Baton Rouge would draw a bit more of his interest. An offensive mind like Malzahn would surely draw the praise from Tiger fans everywhere after the offensive futility the Tigers have gone through in recent years.
I was tempted to include Vols coach
Derek Dooley
, but that would just be cruel to the Rocky Top faithful for another coach to leave after one year. Dooley is one of those young guys that is destined for success. Along with a famous last name, he know the state of Louisiana because of his time at Louisiana Tech. I actually hope for Vols fans he doesn't go anywhere.
A couple of names that LSU fans might want to return to Baton Rouge are Nebraska's
Bo Pelini
and Florida State's
Jimbo Fishe
r
. But I'd bet against either of these names because of the circumstances they left Baton Rouge under (Pelini's desire return to Nebraska; Fisher resentment at not being interviewed in 2004).
Around the Country
TCU's
Gary Patterson
could easily take his purple allegiance to LSU. He would be a good fit and would be coming off an undefeated year and a Rose Bowl trophy, so he probably couldn't get his stock any higher. His 4-2-5 defense would suit the Tigers well, especially with all the depth LSU currently has in their secondary. The only downside to this would be that
Jo
hn Chavis
would surely not be held over in his Defensive Coordinator position, which would most likely put him somewhere else in the SEC.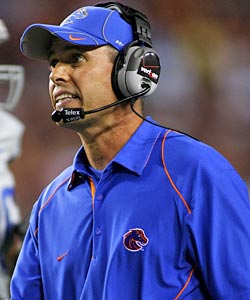 Peterson is 61-5 at Boise
Photo via CBSSports
One name that I think will get plenty of consideration is Boise State's
Chris Petersen
. He seems to be the type of energetic coach that would fit in perfectly in Baton Rouge. A place like LSU I think would be an ideal fit for Petersen, should he decide to leave Boise. The downside is that he withdrew his name quickly for the opening at Stanford. It would be safe to say that if he doesn't leave Boise during this hiring cycle, he is most likely at Boise for the long haul.
Finishing out the non-AQ threesome (so hot, I know) is Utah coach
Kyle Whittingham
. Meyer took a similar path from the Mountain West to the SEC, but with Utah on the verge of joining the Pac-10/12 (or 16/86), this move does not appear likely to happen. (But LSU fans would surely love to have the coach that led one of the biggest upsets in the BCS against a certain coach in Alabama)
Coaches in the Media
I will start off by mentioning former Texas Tech coach and Sirius XM's finest
Mike Leach
. LSU would first need to be a school who is willing to take on a candidate that currently has pending lawsuits against a NCAA member institution. The media giant that broadcasts many NCAA games (ESPN) could have to have some kind of clout b
ecause of his feud with
Craig James
. LSU fits the bill with the SEC already having a monster broadcasting deal with ESPN (which is the smaller of their two deals), and in case you didn't realize, the SEC is kind of a big deal- or atleast bigger than the Big 12. The newfound NCAA rules violations are probably more than enough to scare off the Tigers though.
Now for the homerun hire...
No candidate would excite any college fan base more than
Jon Gruden
.
He has the personality that would would fit in well with any big-time college program, not to mention how appealing he would be to recruits. He always seems to be deflecting any interest of returning to coaching (citing his job with ESPN), but has somehow found time to study the spread offense. He would surely like to return to the NFL first, but with the labor uncertainty wielding its ugly head, where better for him to put his skills to use than a big time college program?
To wrap it all up, the Tigers will be able to find a viable replacement if Miles decides to leave. Being in the SEC and enjoying its geographic place in the football talent-rich Louisiana is appealing to any coach in America. I'm sure I left a few stones unturned (okay, more than a few), but expect the Tigers to make a solid hire if Miles is to leave for his alma mater.
Miles would definitely leave a difficult trail to follow. Coaches that rake in top 5 recruiting classes and win 10 games a year don't exactly grow on trees.
Hopefully, LSU and the Tiger faithful don't have to learn that in too hard of a way.
Thomas Powers is an HKT columnist. "T-Pain" can be reached at thomas.powers10@gmail.com.